No Gun Confiscation via Medical Registry? Right…
Hey, if his guns were confiscated for simply being prescribed Zoloft, isn't that in fact a de facto admission by the Ruling Regime that in fact psychotropics are at the heart of 'potential violence' issue?
"We're not coming for your Guns! We'll never use registry to come after your Guns!"…er…until they DO: Welcome to Pre-Crime USSA!
Gun permit suspended over medication
Updated: Tuesday, 09 Apr 2013, 6:49 PM EDT Published : Tuesday, 09 Apr 2013, 6:49 PM EDT
Al Vaughters Posted by: Eli George
AMHERST, N.Y. (WIVB) – The NYS SAFE Act is billed as a necessary law to protect the public and keep guns out of the hands of the wrong people.

But Hamburg attorney Jim Tresmond says his client was notified by letter that his gun permit was suspended upon the recommendation of State Police, who learned the man is on anti-anxiety medication.

"Claiming that he had taken some psychotropic medications, and that he no longer could be eligible for the pistol permit," Tresmond said.
UPDATE 1: More on suspension of man's gun permit
Updated: Wednesday, 10 Apr 2013, 9:25 PM EDT Published : Wednesday, 10 Apr 2013, 6:41 PM EDT
Al Vaughters Posted by: Eli George
AMHERST, N.Y. (WIVB) – An Amherst man had his guns confiscated by the state, which claimed he was too dangerous to own them.

"David", a 34-year-old college librarian, had no idea State Police were investigating him and would recommend his pistol permit be suspended until he got the notice in the mail. Now he has to fight to get it back.

Attorney James Tresmond said, "'Due process' should come before the suspension. That is where due process comes in – before your rights are taken, due process must occur. That is our Constitutional right, not the reverse."

After meeting with Erie County's Licensing Officer, Supreme Court Justice William Boller, Tresmond says State Police recommended David's license suspension based on his prior use of a widely-prescribed anti-anxiety medication. Tresmond says the new SAFE Act requires mental health providers inform authorities.
UPDATE 2: David Lewis' Permit and Guns Restored!
Police wrongly pulled man's gun permit
Updated: Wednesday, 10 Apr 2013, 10:16 PM EDT Published : Wednesday, 10 Apr 2013, 9:19 PM EDT
Rachel Kingston Posted by: Eli George
AMHERST, N.Y. (WIVB) – State Police forced an Amherst man to turn in his guns after suspending his pistol permit over anti-anxiety medication. But now they say it was all a misunderstanding.

Erie County Clerk Chris Jacobs said, "Today, we all look like fools."

"David," a 34-year-old college librarian, recently had his pistol permit taken away. Erie County's Licensing Officer, Supreme Court Justice William Boller, was following a recommendation from State Police that David's permit be revoked because he used anti-anxiety medication in the past.

But then, just before the close of business Wednesday, County Clerk Chris Jacobs received a voicemail from State Police in Albany, saying it was all a mistake and that they had the wrong man.
** Right, the NY State PoliceState went after a man and his guns, after illegally violating his Constitutional right to privacy…by accident. Yeah. Okie Dokie Smokey.
Here's the proprietor of TTAG (the world's most popular pro-gun blog), Robert Farago's take:
UPDATE Keeping Our Powder Dry: The Strange Case of David Lewis
Posted on April 10, 2013 by Robert Farago
"The NYS SAFE Act is billed as a necessary law to protect the public and keep guns out of the hands of the wrong people," wivb.com reports. "But Hamburg attorney Jim Tresmond says his client was notified by letter that his gun permit was suspended upon the recommendation of State Police, who learned the man is on anti-anxiety medication." With gun owners suffering prohibitions and regulation and fearing federal infringement, this story has gone viral. "Here's one from The Department of We ****ing Told You So!" a TTAG reader wrote in an email heads-up. Yes, well, I'm not so sure . . .

When I first wrote this post, I hadn't spoken with Jim Tresmond. I knew him as the Buffalo lawyer who went online looking for Empire State gun guys to participate in a class-action lawsuit against the SAFE Act. I reached out and he responded.

Tresmond and I spoke at length about the story. He emailed me the redacted document featured in the news report above [click here to read it] and provided some more details of the incident. …
source article:the candian
UPDATE: Since publication of this story this morning, yet another oil spill has come across the wire – a CP Rail spill from a derailment in northern Ontario – raising the total of spills this past week to SIX.
It's been another appallingly bad week for proponents of pipeline safety and new oil infrastructure. If the industry's woeful historical record – from the Exxon Valdez to BP's Gulf of Mexico catastrophe to Enbridge's trashing of the Kalamazoo – isn't enough to turn people off of new pipelines and tanker routes, this slew of recent spills should seal the deal.
These incidents couldn't have come at a worse time for the oil and pipeline industries, as US President Barack Obama prepares to announce his final decision in the coming months on the proposed Keystone XL pipeline from the Alberta Tar Sands to Port Arthur, Texas.
Let's review the record over the last week:   
•  This past friday, ExxonMobil's Pegasus Pipeline coated the streets of Mayflower, Arkansas, with what CNN describes as a "smelly, asphalt-like crude" (i.e. diluted bitumen from the Alberta Tar Sands – the same kind the proposed Keystone XL would carry). These photos illustrate the effects of the spill on the sleepy Little Rock suburb – see the viral video captured by a local resident below.
• Enbridge was back at it again last week, with the fourth recorded spill in two months along its Norman Wells Pipeline through the Northwest Territories. The company has leaked an estimated million litres of oil since February, 2011, from this one pipeline, prompting the National Energy Board to order an engineering assessment of the chronically malfunctioning line.
• Meanwhile, back at the Alberta Tar Sands, Suncor was dealing with (and furiously downplaying) a leak from one of its massive waste ponds into the Athabasca River. This comes on the heels of a leaked memo to Conservative Resources Minister Joe Oliver, which acknowledged routine spillage from these ponds throughout the Tar Sands.
• Over the weekend, Michigan was hit with another spill – this time up to 500 gallons of hydraulic oil spilled into the Lansing Grand River during an equipment malfunction at a local utility.
• For those who would look to rail as an alternative to pipelines for transporting oil, there was the derailment last week of a CP Rail train, spilling an estimated 30,000 gallons of its crude cargo in western Minnesota.
This latest spate of spills should give pause to President Obama as he contemplates the Keystone XL – and to Canadian citizens and lawmakers debating several new pipeline proposals of our own.
It's time to put to rest the notion that oil spills are "accidents". They are, rather, a routine function of the business of extracting, transporting, and consuming oil – a good reason to spend our energy and resources on developing sustainable alternatives, not further entrenching our dependence on fossil fuels through new oil infrastructure.
David Siegel is the founder and CEO of Westgate Resorts, a huge national timeshare company and one of the largest resort developers in the world. In 2007 he was a billionaire, although he may be only a hundred-millionaire now. He and his wife Jackie were the subjects of the recent documentary "The Queen of Versailles," about their ongoing quest to build the largest house in America, a 90,000 square foot monument to excess. And yesterday, David Siegel sent an email to all of his thousands of employees, in which he—in a veiled way—insinuated that they would be fired of Barack Obama is reelected.
UPDATE: Shortly after we posted this letter, we found out, thanks to multiple readers, that it bore suspicious resemblances to a popular chain letter that was circulated just before the 2008 elections. Well, we just got off the phone with David Siegel, who told us the letter below is real, and that it was sent out to all of his employees yesterday. "I did use the letter that had circulated before as a guideline, but I changed it [to fit my circumstances]," he told us. "It speaks the truth and it gives [employees] something to think about when they go to the polls." He also said that its threats of possible layoffs are real, based on his assessment of the political and economic climate. He added that he "hasn't had any negative feedback" on the letter.
The Florida-based Westgate Resorts is not a public company. It is the domain of David Siegel, a staunch Republican. In fact, Siegel has publicly claimed credit for George W. Bush defeating Al Gore, saying "I had my managers do a survey on every employee [8,000 total]. If they liked Bush, we made them register to vote. But not if they liked Gore."
"The Queen of Versailles" depicts the dashing of Siegel's mansion dreams after the recession hit. But just months ago, he restarted construction on his personal Palace of Versailles (with the intention of selling it for $100 million) and told Reuters, "We're the most profitable we've ever been."
Huge mansion. Huge fortune. Profitable company. What could David Siegal have to complain about? Well, the demonization of the 1% by Barack Obama, for one thing. This truly amazing email went out to all Westgate employees yesterday. Bolding is ours.
read letter here:http://gawker.com/5950189/the-ceo-who-built-himself-americas-largest-house-just-threatened-to-fire-his-employees-if-obamas-elected
The rightwing transparency group, Judicial Watch, released Tuesday a new batch of documents showing how eagerly the Obama administration shoveled information to Hollywood film-makers about the Bin Laden raid. Obama officials did so to enable the production of a politically beneficial pre-election film about that "heroic" killing, even as administration lawyers insisted to federal courts and media outlets that no disclosure was permissible because the raid was classified.
Thanks to prior disclosures from Judicial Watch of documents it obtained under the Freedom of Information Act, this is old news. That's what the Obama administration chronically does: it manipulates secrecy powers to prevent accountability in a court of law, while leaking at will about the same programs in order to glorify the president.
But what is news in this disclosure are the newly released emails between Mark Mazzetti, the New York Times's national security and intelligence reporter, and CIA spokeswoman Marie Harf. The CIA had evidently heard that Maureen Dowd was planning to write a column on the CIA's role in pumping the film-makers with information about the Bin Laden raid in order to boost Obama's re-election chances, and was apparently worried about how Dowd's column would reflect on them. On 5 August 2011 (a Friday night), Harf wrote an email to Mazzetti with the subject line: "Any word??", suggesting, obviously, that she and Mazzetti had already discussed Dowd's impending column and she was expecting an update from the NYT reporter.
A mere two minutes after the CIA spokeswoman sent this Friday night inquiry, Mazzetti responded. He promised her that he was "going to see a version before it gets filed", and assured her that there was likely nothing to worry about:
"My sense is there a very brief mention at bottom of column about CIA ceremony, but that [screenwriter Mark] Boal also got high level access at Pentagon."
She then replied with this instruction to Mazzetti: "keep me posted", adding that she "really appreciate[d] it".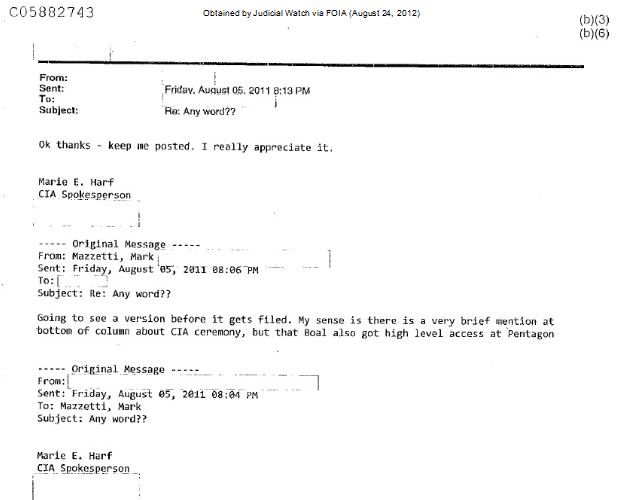 Moments later, Mazzetti forwarded the draft of Dowd's unpublished column to the CIA spokeswoman (it was published the following night online by the Times, and two days later in the print edition). At the top of that email, Mazzetti wrote: "this didn't come from me … and please delete after you read." He then proudly told her that his assurances turned out to be true:
"See, nothing to worry about."

This exchange, by itself, is remarkably revealing: of the standard role played by establishment journalists and the corruption that pervades it. Here we have a New York Times reporter who covers the CIA colluding with its spokesperson to plan for the fallout from the reporting by his own newspaper ("nothing to worry about"). Beyond this, that a New York Times journalist – ostensibly devoted to bringing transparency to government institutions – is pleading with the CIA spokesperson, of all people, to conceal his actions and to delete the evidence of collusion is so richly symbolic.
The relationship between the New York Times and the US government is, as usual, anything but adversarial. Indeed, these emails read like the interactions between a PR representative and his client as they plan in anticipation of a possible crisis.
Even more amazing is the reaction of the newspaper's managing editor, Dean Baquet, to these revelations, as reported by Politico's Dylan Byers:
"New York Times Managing Editor Dean Baquet called POLITICO to explain the situation, but provided little clarity, saying he could not go into detail on the issue because it was an intelligence matter.

"'I know the circumstances, and if you knew everything that's going on, you'd know it's much ado about nothing,' Baquet said. 'I can't go into in detail. But I'm confident after talking to Mark that it's much ado about nothing.'

"'The optics aren't what they look like,' he went on. 'I've talked to Mark, I know the circumstance, and given what I know, it's much ado about nothing.'"
There is so much to say about that passage.
First, try though I did, I'm unable to avoid noting that this statement from Baquet – "the optics aren't what they look like" – is one of the most hilariously incoherent utterances seen in some time. It's the type of meaningless, illiterate corporatese that comes spewing forth from bumbling executives defending the indefensible. I've read that sentence roughly a dozen times over the last 24 hours and each time, it provides me with greater amounts of dark amusement.
Second, look at how the New York Times mimics the CIA even in terms of how the newspaper's employees speak: Baquet "provided little clarity, saying he could not go into detail on the issue because it was an intelligence matter". In what conceivable way is Mazzetti's collusion with the CIA an "intelligence matter" that prevents the NYT's managing editor from explaining what happened here?
This is what the CIA reflexively does: insists that, even when it comes to allegations that they have engaged in serious wrongdoing, you (and even courts) cannot know what the agency is doing because it is an "intelligence matter". Now, here we have the managing editor of the Newspaper of Record reciting this same secrecy-loving phrase verbatim – as though the New York Times is some sort of an intelligence agency whose inner workings must be concealed for our own safety – all in order to avoid any sort of public disclosure about the wrongdoing in which it got caught engaging. One notices this frequently: media figures come to identify so closely with the government officials on whom they report that they start adopting not only their way of thinking, but even their lingo.
Third, note how Baquet proudly touts the fact that he knows facts to which you are not and will not be privvy:
"I know the circumstances, if you knew everything that's going on, you'd know it's much ado about nothing."
Isn't the function of a newspaper supposed to be to tell us "everything that's going on", not to boast that it knows the circumstances and you do not?
Baquet's claim that this was all "much ado about nothing" did not, apparently, sit well with at least some people at the New York Times, who seem not to appreciate it when their national security reporter secretly gives advanced copies of columns to the CIA spokesperson. Shortly after Baquet issued his ringing defense of Mazzetti's behavior, a spokesperson for the paper not only provided the details Baquet insisted could not be given, but also made clear that Mazzetti's conduct was inappropriate:
"Last August, Maureen Dowd asked Mark Mazzetti to help check a fact for her column. In the course of doing so, he sent the entire column to a CIA spokeswoman shortly before her deadline. He did this without the knowledge of Ms Dowd. This action was a mistake that is not consistent with New York Times standards."
It may be "inconsistent with the New York Times standards" for one of its reporters to secretly send advanced copy to the CIA and then ask that the agency delete all record that he did so: one certainly hopes it is. But it is not, unfortunately, inconsistent with the paper's behavior in general, when it comes to reporting on public officials. Serving as obedient lapdogs and message-carriers for political power, rather than adversarial watchdogs over power, is par for the course.
The most obvious example of this is the paper's complicity with propagating war-fueling falsehoods to justify the attack on Iraq – though, in that instance, it was hardly alone. Just last month, it was revealed that the NYT routinely gives veto power to Obama campaign officials over the quotes from those officials the paper is allowed to publish – a practice barred by other outlets (but not the NYT) both prior to that revelation and subsequent to it.
Worse, the paper frequently conceals vital information of public interest at the direction of the government, as it did when it learned of George Bush's illegal eavesdropping program in mid 2004 but concealed it for more than a year at the direction of the White House, until Bush was safely re-elected; as it did when it complied with government directives to conceal the CIA employment of Raymond Davis, captured by Pakistan, even as President Obama falsely described him as "our diplomat in Pakistan" and as the NYT reported the president's statement without noting that it was false; and as it did with its disclosure of numerous WikiLeaks releases, for which the paper, as former executive editor Bill Keller proudly boasted, took direction from the government regarding what should and should not be published.
And that's all independent of the chronic practice of the NYT to permit government officials to hide behind anonymity in order to disseminate government propaganda – or even to smear journalists as al-Qaida sympathizers for reporting critically on government actions – even when granting such anonymity violates its own publicly announced policies.
What all of this behavior from the NYT has in common is clear: it demonstrates the extent to which it institutionally collaborates with and serves the interests of the nation's most powerful factions, rather than act as an adversarial check on them. When he talks to the CIA spokesperson, Mazzetti sounds as if he's talking to a close colleague working together on a joint project.
It sounds that way because that's what it is.
One can, if one wishes, cynically justify Mazzetti's helpful co-operation with the CIA as nothing more than a common means which journalists use to curry favor with their sources. Leave aside the fact that the CIA spokesperson with whom Mazzetti is co-operating is hardly some valuable leaker deep within the bowels of the agency but, in theory, should be the supreme adversary of real journalists: her job is to shape public perception as favorably as possible to the CIA, even at the expense of the truth.
The more important objection is that the fact that a certain behavior is common does not negate its being corrupt. Indeed, as is true for government abuses generally, those in power rely on the willingness of citizens to be trained to view corrupt acts as so common that they become inured, numb, to its wrongfulness. Once a corrupt practice is sufficiently perceived as commonplace, then it is transformed in people's minds from something objectionable into something acceptable. Indeed, many people believe it demonstrates their worldly sophistication to express indifference toward bad behavior by powerful actors on the ground that it is so prevalent. This cynicism – oh, don't be naive: this is done all the time – is precisely what enables such destructive behavior to thrive unchallenged.
It is true that Mazzetti's emails with the CIA do not shock or surprise in the slightest. But that's the point. With some noble journalistic exceptions (at the NYT and elsewhere), these emails reflect the standard full-scale cooperation – a virtual merger – between our the government and the establishment media outlets that claim to act as "watchdogs" over them.
From "All the news that's fit to print" to "please delete after you read" and cannot "go into detail because it is an intelligence matter": that's the gap between the New York Times's marketed brand and its reality.
* * * * *
UPDATE: The Times' Public Editor weighed in on this matter today, noting his clear disapproval for what Mazzetti did:
"Whatever Mr. Mazzetti's motivation, it is a clear boundary violation to disclose a potentially sensitive article pre-publication under such circumstances. This goes well beyond the normal give-and-take that characterizes the handling of sources and suggests the absence of an arm's-length relationship between a reporter and those he is dealing with."

read more:http://www.guardian.co.uk/commentisfree/2012/aug/29/correspondence-collusion-new-york-times-cia
(Adds source close to U.S. biosecurity board, WHO quotes)
By Stephanie Nebehay and Kate Kelland
GENEVA/LONDON Feb 17 (Reuters) – Two studies showing how scientists mutated the H5N1 bird flu virus into a form that could cause a deadly human pandemic will be published only after experts fully assess the risks, the World Health Organisation (WHO) said on Friday.
Speaking after a high-level meeting of flu experts and U.S. security officials in Geneva, a WHO official said an agreement had been reached in principle to keep details of the controversial work secret until deeper risk analyses have been carried out.
"There is a preference from a public health perspective for full disclosure of the information in these two studies. However there are significant public concerns surrounding this research that should first be addressed," said Keiji Fukuda, the WHO's assistant director-general for health security and environment.
The WHO called the meeting to break a deadlock between scientists who have studied the mutations needed to make H5N1 bird flu transmit between mammals, and the U.S. National Science Advisory Board for Biosecurity (NSABB), which wanted the work censored before it was published in scientific journals.
Biosecurity experts fear mutated forms of the virus that research teams in The Netherlands and the United States independently created could escape or fall into the wrong hands and be used to spark a pandemic worse than the 1918-19 outbreak of Spanish flu that killed up to 40 million people.
WHO spokesman Gregory Hartl said that because of these fears, "there must be a much fuller discussion of risk and benefits of research in this area and risks of virus itself".
But a scientist close to the NSABB who spoke to Reuters immediately after the decision said the board was deeply "frustrated" by it.
The only NSABB member attending the meeting was infectious disease expert Paul Keim of Northern Arizona University and he "got the hell beat out of him", the source said.
"It was a closed meeting dominated by flu people who have a vested interest in continuing this kind of work," he added.
The WHO said experts at the meeting included lead researchers of the two studies, scientific journals interested in publishing the research, funders of the research, countries who provided the viruses, bioethicists and directors from several WHO-linked laboratories specialising in influenza.
HIGH FATALITY RATE
The H5N1 virus, first detected in Hong Kong in 1997, is entrenched among poultry in many countries, mainly in Asia, but so far remains in a form that is hard for humans to catch.
It is known to have infected nearly 600 people worldwide since 2003, killing half of them, a far higher death rate than the H1N1 swine flu which caused a flu pandemic in 2009/2010.
Last year two teams of scientists – one led by Ron Fouchier at Erasmus Medical Center and another led by Yoshihiro Kawaoka at the University of Wisconsin – said they had found that just a handful of mutations would allow H5N1 to spread like ordinary flu between mammals, and remain as deadly as it is now.
This type of research is seen as vital for scientists to be able to develop vaccines, diagnostic tests and anti-viral drugs that could be deployed in the event of an H5N1 pandemic.
In December, the NSABB asked two leading scientific journals, Nature and Science, to withhold details of the research for fear it could be used by bioterrorists.
They said a potentially deadlier form of bird flu poses one of the gravest known threats to humans and justified the unprecedented call to censor the research.
The WHO voiced concern, and flu researchers from around the world declared a 60-day moratorium on Jan. 20 on "any research involving highly pathogenic avian influenza H5N1 viruses" that produce easily contagious forms.
Fouchier, who took part in the two-day meeting at the WHO which ended on Friday, said the consensus of experts and officials there was "that in the interest of public health, the full paper should be published" at some future date.
"This was based on the high public health impact of this work and the need to share the details of the studies with a very big community in the interest of science, surveillance and public health on the whole," he told reporters.
In its current form, people can contract H5N1 only through close contact with ducks, chickens, or other birds that carry it, and not from infected individuals.
But H5N1 can acquire mutations that allow it to live in the upper respiratory tract rather than the lower, and the Dutch and U.S. researchers found a way to make it travel via airborne droplets between infected ferrets. Flu viruses are thought to behave similarly in the animals and in people.
Asked about the potential bioterrorism risks of his and the U.S. team's work, Fouchier said "it was the view of the entire group" at the meeting that the risks that this particular virus or flu viruses in general could be used as bioterrorism agents "would be very, very slim".
"The risks are not nil, but they are very, very small," he said. (Additional reporting by Sharon Begley in New York; editing by Andrew Roche)
WASHINGTON — In a stunning break with First Amendment policy, House Republicans directed Capitol Hill police to detain a highly regarded documentary crew that was attempting to film a Wednesday hearing on a controversial natural gas procurement practice. Initial reports from sources suggested that an ABC News camera was also prevented from taping the hearing; ABC has since denied that they sent a crew to the hearing.
Josh Fox, director of the Academy Award-nominated documentary "Gasland" was taken into custody by Capitol Hill police this morning, along with his crew, after Republicans objected to their presence, according to Democratic sources present at the hearing. The meeting of the House Subcommittee on Energy and Environment had been taking place in room 2318 of the Rayburn building.
HuffPost has obtained exclusive video of the arrest of Josh Fox. Rep. Brad Miller (D-N.C.), the ranking Democrat on the subcommittee, can be heard at the end of the clip asking Republican Chairman Andy Harris (R-Md.) to halt the arrest and permit Fox to film the public hearing. Harris denies Miller's request as Fox is escorted out of the hearing in handcuffs.
WATCH Capitol Hill Police Arrest a Journalist for Filming a Public Hearing: (story continues below)
"Gasland" received strong critical acclaim and takes a critical eye toward the practice of hydraulic fracturing, or "fracking," a process in which several tons of highly pressurized water and chemicals are injected into the ground, allowing valuable natural gas to escape. The practice is decried by ecological experts for destroying ecosystems and polluting groundwater. The energy industry keeps the actual content of fracking chemicals secret.
Fox had hoped to film Wednesday's hearing for a follow-up to "Gasland." Fox told HuffPost later Wednesday evening, "We did get his staff on the phone, they never returned the phone call," referring to staffers for Chairman Harris. "This is not transparency. This is a lockout and it's bad. It's the people's House, after all. We went through the proper channels to arrange to tape this hearing. We have taped congressional hearings before and we've been turned down before, but I disagree with the policy. Anyone who says they're a journalist is a journalist. It's called the First Amendment. It's the freedom of the press, and that is fundamental to our core identity as the United States of America."
Hearings are open to the public, and any citizen can attend. Regulations only govern the use of cameras. Even under an extreme adherence to the rules, Fox's camera could have been confiscated or disabled without subjecting him to arrest. And while Fox did not have formal Capitol Hill credentials, such formalities are rarely enforced against high-profile journalists. Temporary passes are easy to obtain, and if Republicans had objected on procedural grounds, they could have simply sent the crew to the front desk, rather than ordering police to arrest journalists. The right to a free press is protected by the First Amendment to the U.S. Constitution. Documentary crews are almost never denied access to public meetings of elected government officials.
UPDATE: 12:09 p.m. — Capitol Police public information officer Sergeant Kimberly Schneider provided the following statement to HuffPost on the morning's events:
"At approximately 10:30 a.m. today, United States Capitol Police arrested Joshua Fox of Milanville, Pa. in room 2318 of the Rayburn House office building. He is charged with unlawful entry, and he is currently being processed at United States Capitol Police headquarters."
UPDATE: 2:27 p.m. — Fox apparently had applied for credentialing the day before the hearing but had been unable to obtain official permission to film. He had asked a credentialed film crew to tape the proceedings on his behalf but was informed that this was not permitted.
Nevertheless, turning away journalists is extremely rare on Capitol Hill. The rules requiring pre-approval for film crews are designed to prevent hearings from being disrupted by hordes of camera operators. That was not the case for this hearing. Only two cameras requested entrance to the event, which was not crowded.
Subcommittee Chairman Andy Harris (R-Md.) was unavailable for comment, but several Democrats on the committee voiced outrage with the GOP's press blackout.
"I was chair of the Subcommittee for four years, and we frequently had people show up the day of a hearing to film," Rep. Brad Miller (D-N.C.) told HuffPost. "We asked for their name, but they were told if they would not disrupt the hearing, they were free to record. A couple of times staff said, 'You're getting in the way, don't stand there,' but other than that, I do not ever recall anything like this. We certainly never turned anyone away for not providing 24 hours' notice."
"It's an outrageous violation of the First Amendment," Rep. Zoe Lofgren (D-Calif.) told HuffPost. "Here we've got an Academy Award-nominated filmmaker, and it's an important subject and the subject that he did his prior film on for HBO. And they put him in handcuffs and hauled him out of there. This is stunning."
"I found it ironic that there was not a flood of cameras there," noted Rep. Paul Tonko (D-N.Y.). "There was the one camera and then before that, the ABC camera … if you have a camera there to bring the issue home to the public, that's a good thing."
The hearing was already being filmed by C-SPAN. Josh Fox had only sought to obtain higher-quality video by bringing their own cameras to the event. Democrats attempted to suspend the rules governing camerawork to allow Fox and ABC to film the hearing, but Republicans, who hold a majority on all House committees and subcommittees, voted down the motion. Democrats then sought to postpone the hearing to allow for filming at a later date, a motion which Republicans also overruled.
UPDATE: 3:45 p.m. — Republican staffers told Democrats that a crew for ABC News had also been denied access to the event, but ABC News told HuffPost that their organization did not have any journalists assigned to cover the hearing. It is not clear what caused the confusion.
"We definitely did not have a crew on the Hill this morning to cover this hearing," an ABC News spokeswoman told HuffPost. "The individual who was turned away absolutely did not have ABC news credentials."
UPDATE: 4:45 p.m. — Rep. Jerry Nadler (D-N.Y.) told HuffPost, "I have served in the House of Representatives since 1992, and I had the privilege of chairing the Subcommittee on the Constitution, Civil Rights, and Civil Liberties. In all that time, I cannot recall a chair of any committee or subcommittee having ever ordered the removal of a person who was filming a committee proceeding and not being disruptive, whether or not that person was accredited. It is a matter of routine that all sorts of people photograph and record our proceedings. Most of them are not accredited. I cannot recall anyone questioning their right to be there."
Arthur Spitzer, legal director of the ACLU in Washington, explained that "congressional committees routinely allow professional journalists to record hearings even when they don't have official press credentials, and excluding a journalist because he doesn't share the political views of the committee chair is outrageous. The Supreme Court has explained many times that censorship based on viewpoint is the clearest kind of First Amendment violation, and that seems to be what happened here."
Josh Fox, meanwhile, has issued the following statement to the press:
I was arrested today for exercising my First Amendment rights to freedom of the press on Capitol Hill. I was not expecting to be arrested for practicing journalism. Today's hearing in the House Energy and Environment subcommittee was called to examine EPAs findings that hydraulic fracturing fluids had contaminated groundwater in the town of Pavillion, Wyoming. I have a long history with the town of Pavillion and its residents who have maintained since 2008 that fracking has contaminated their water supply. I featured the stories of residents John Fenton, Louis Meeks and Jeff Locker in GASLAND and I have continued to document the catastrophic water contamination in Pavillion for the upcoming sequel GASLAND 2. It would seem that the Republican leadership was using this hearing to attack the three year Region 8 EPA investigation involving hundreds of samples and extensive water testing which ruled that Pavillion's groundwater was a health hazard, contaminated by benzene at 50x the safe level and numerous other contaminants associated with gas drilling. Most importantly, EPA stated in this case that fracking was the likely cause.As a filmmaker and journalist I have covered hundreds of public hearings, including Congressional hearings. It is my understanding that public speech is allowed to be filmed. Congress should be no exception. No one on Capitol Hill should regard themselves exempt from the Constitution. The First Amendment to the Constitution states explicitly "Congress shall make no law…that infringes on the Freedom of the Press".  Which means that no subcommittee rule or regulation should prohibit a respectful journalist or citizen from recording a public hearing.

This was an act of civil disobedience, yes done in an impromptu fashion, but at the moment when they told me to turn off the cameras, I could not. I know my rights and I felt it was imperative to exercise them.

When I was led out of the hearing room in handcuffs, John Boehner's pledge of transparency in congress was taken out with me.

The people of Pavillion deserve better. The thousands across the US who have documented cases of water contamination in fracking areas deserve their own hearing on Capitol hill. They deserve the chance to testify in before Congress. The truth that fracking contaminates groundwater is out, and no amount of intimidation tactics –either outright challenges to science or the arrest of journalists –will put the genie back in the bottle. Such a brazen attempt to discredit and silence the EPA, the citizens of Pavillion and documentary filmmaking will ultimately fail and it is an affront to the health and integrity of Americans.

Lastly, in defense of my profession, I will state that many many Americans get their news from independent documentaries. The hill should immediately move to make hearings and meetings accessible to independent journalists and not further obstruct the truth from being reported in the vivid and in depth manner that is only achievable through long form documentary filmmaking.

I will be thinking on this event further and will post further thoughts and developments.

I have been charged with "unlawful entry" and my court date is February 15.

Josh Fox Washington D.C. 2/1/12
LANSING — A bill that would skirt federal regulations phasing out inefficient incandescent light bulbs passed the state House of Representatives Thursday by a 62-46 margin.
The bill permits the sale of incandescent bulbs in Michigan as long as they are manufactured in the state and only sold within the state.
Currently, there are no Michigan manufacturers of incandescent bulbs.
State Rep. Tom McMillin (R-Rochester Hills) said he sponsored the legislation because he wanted Michigan consumers to have more choice when it came to illuminating their homes. He disagreed with criticism that the legislation is a poor use of lawmakers' time.
"I certainly think giving our citizens a choice between a $5 mercury-filled curlicue light bulb or a 50-cent incandescent bulb is worthwhile," he said. "We're giving them a chance to decide."
The federal standards, enacted in 2007 as part of the Energy Independence and Security Act, don't expressly ban incandescent bulbs. Rather, they set efficiency standards for light bulbs, similar to miles-per-gallon standards for cars.
Currently, only compact fluorescent bulbs, some halogen bulbs and LEDs meet those standards.
(UPDATE 10/14/2011: Reader Shawn B. points out that halogen bulbs are incandescent bulbs — and that some halogens meet the efficiency standards.)
"Incandescent bulbs won't go away," Cyndi Roper, executive director of Michigan Clean Water Action said. "They're going to need to be more efficient."
Clean Water Action and the Sierra Club blasted the vote as a vote to raise utility costs on Michigan consumers, but Roper admitted the increased costs would only effect consumers who elected to use the less-efficient light bulbs.
McMillin said there's a possibility for a manufacturer to open shop in Michigan, but that manufacturer wouldn't be able to sell the bulbs outside of the state.
The bill moves to the state Senate for consideration.
E-mail Angela Wittrock: awittroc at mlive dot com and follow her on Twitter at twitter.com/AngelaWittrock and Facebook, or reach her by phone at 517.908.0712.
In the latest installment of Norway's completely  bizarre butter shortage, a Russian man has been caught trying to sneak 90kg  (almost 200lbs) of butter into the country without paying import duties, The Local reports.
It's thought that a rise in low  carb diets have caused a shortage in the country, which has strict tariffs  on the import of butter from other countries.
Given that reports suggest butter had been selling eBay for $13 per 250  grams, this illicit haul would have been worth $4680.
UPDATE: Perhaps that even that ridiculous estimate is too  low — The  Local reports that one man claims he was offered 3,000 kroner ($515) for  half a kilo of "almost unused" butter.
Read more: http://articles.businessinsider.com/2011-12-12/europe/30506971_1_butter-shortage-import-duties-russian-man#ixzz1gXZErfVY