The USDA has been under fire recently for its admitted assault against nature, after multiple investigations have uncovered its deliberate tampering with both plants and animals alike. One such investigation has put an end to the mystery surrounding the death of millions of birds, with USDA documents revealing the organization's role in the massive slaughter. In addition to the mass bird killings, it turns out the USDA was fully aware that a highly-popular herbicide chemical was a known bee-killer, which may have aided the bee decline. The USDA has also threatened the genetic integrity of the nation's crops. Information has surfaced regarding the USDA's illegal approval of Monsanto's biotech crop, sugar beets. These crimes are simply an excerpt from the long list of USDA crimes that are continually being exposed.
In December of 2010, mystery struck the world. Reports of mass fish and bird die-offs were coming in from Texas to Sweden. The first occurrence in the series of strange events started in Arkansas, where 3,000 birds fell from the sky. In the following days and weeks, similar incidents were reported with no solid explanation. The reason has now been found, thanks to documents found on the USDA's website. Claiming to be protecting farmers from predators, the birds were victims of a little-known government program. Like millions of other animals since the Bye Bye Blackbird program was created in the 1960?s, the birds were poisoned and killed for being considered a nuisance to farmers. It is important to take note that many of these animals don't pose any immediate threat to farmers.
Remember when the USDA gave Monsanto's new GMO crops the fast  track to approval? Regardless of the numerous accounts of organ damage,  pesticide-resistant weeds, and unintentionally mutated organisms like resistant  insects, our own government is manipulating the game to let "biotech bullies" like Monsanto get speedier regulatory reviews. Consequently, the environment,  livestock, and consumers will be exposed to even greater danger.
As stated in their press  release, the Secretary of Agriculture, Tom Vilsack, envisions transforming  the USDA "into a high-performing organization that focuses on its customers." We'd like to think that we, the consumers, are those customers. The likes of  Monsanto, Dow, and Syngenta, however, would probably disagree.
Here's your chance to tell the USDA otherwise. The first two crops on this  list have been on the old, slower-track approval process, which allows 60 days  for the public to comment. The remaining four are new additions but are on the  fast track, meaning we still only have until September 11th of 2012  to have our say before these seeds hit the soil and, maybe, your dinner  table.
6 New GMO Crops to Act  Against
Dow 2,4-D and Glufosinate Tolerant Soybean – Since the  US first began using GM crops, our herbicide usage has been boosted by 300  million pounds, despite claims by biotech behemoths that other plants like weeds  would not grow resistant to glyphosate – commonly known as RoundUp. And now, we  have "superweeds." Of course, biotech (and seemingly the USDA) doesn't care, and  they plan on adding the 2,4-D  herbicide and dicamba (see number 4) to the list. Take action here.
Syngenta Corn Rootworm Resistant Corn – Plenty of  nations have banned Syngenta's GM Bt crops—but not the US. This type of corn  produces its own pesticides and kills all bugs, good or bad, which also means  livestock can get sick from eating it. Research says that 80% of pregnant women  have Bt toxins in their blood. Take action here.
Okanagan Non-Browning Apple – Conventional apples are  covered in pesticides. That's why we buy organic, but Okanagan has produced the  first GM apple. Take action against genetically  modified apples right here.
Monsanto Dicamba Tolerant Soybean – Take action here.
Dow 2,4-D, Dlyphosate and Glufosinate Tolerant Soybean  – Take action here.
Genective Glyphosate Tolerant Corn
Read more: http://naturalsociety.com/6-new-gmo-crops-soon-hit-dinner-table/#ixzz2520uqKLp
Published: May 11, 2011
The Obama administration will seek to allow the unlimited sale of a corn variety genetically engineered by Monsanto Co. to resist drought, the Department of Agriculture announced today. The corn, if approved, would be the first commercial biotech crop designed to resist stressful environmental conditions like drought, rather than pests or herbicides.
Drought tolerance has been a longtime goal of the agricultural biotech companies, who hold up the trait as one way they could aid both their bottom line and farmers in drought-prone regions. But the trait, influenced by a wide variety of genes, has proved difficult to develop.
The market could be vast. In North America, up to 40 percent of crop-loss insurance claims are due to heavy or moderate drought, according to some estimates. Worldwide, corn-growing regions lose about 15 percent of their annual crop to drought, and losses run much higher in severe conditions.
However, Monsanto's corn is unlikely to perform well enough to tap this potential, USDA found.
While the agency's draft environmental assessment of the modified corn found the crop unlikely to pose a plant pest risk, prompting USDA to seek deregulation, the agency also noted that many corn varieties on the market match Monsanto's strain in their water use.
"The reduced yield [trait] does not exceed the natural variation observed in regionally-adapted varieties of conventional corn," the report says, adding that "Equally comparable varieties produced through conventional breeding techniques are readily available in irrigated corn production regions."
full story:
Two farms have been quarantined by the U.S. Department of Agriculture as the agency continues to investigate last month's discovery of mad cow disease at a California dairy farm.
Authorities also have launched an investigation at a calf ranch where the initial infected cow was raised 10 years ago, according to a statement released late Wednesday by the USDA.
Last week, the USDA documented the fourth confirmed U.S. case of Bovine Spongiform Encephalopathy (BSE) — a brain wasting disease affecting cattle — known commonly as mad cow disease, at a rendering facility in central California. USDA officials said the cow was never presented for human consumption and was not a threat.
The farm where the cow was initially discovered has been under quarantine since the discovery, agriculture officials said. Wednesday's announcement of a second quarantine involves a farm closely associated with the dairy where the sick cow was discovered last month, the USDA said. The agency is still trying to determine if any at-risk cattle are present at either of the two farms.
Eating contaminated meat or some other animal products from cattle that have BSE is thought to be the cause of Creutzfeldt-Jakob disease. The fatal brain disease was blamed for the deaths of 150 people in Britain, where there was an outbreak in the 1980s and 1990s.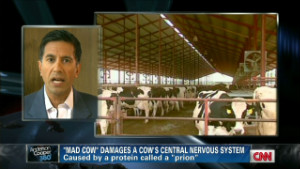 Controversy over 'mad cow' testing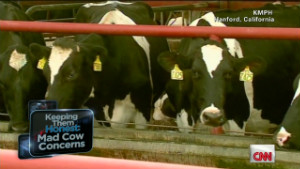 Are tests for 'mad cow' enough?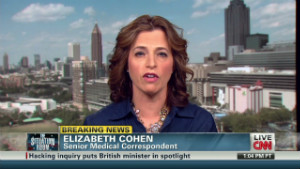 'Mad cow' case confirmed by USDA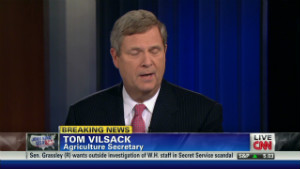 'Mad cow' confirmed in California
Learn more about Creutzfeldt-Jakob disease
In people, symptoms of the disease include psychiatric and behavioral changes, movement deficits, memory disturbances and cognitive impairments.
BSE can cause infected animals to display nervousness or aggression, difficulty in coordination and standing up, decreased milk production or weight loss.
It is usually transmitted between cows through the practice of recycling bovine carcasses for meat and bone meal protein, which is fed to other cattle.
In this case, the Agricultural Department reported that the cow had a rare form of BSE not likely carried by contaminated feed.
Since 2004, the USDA has removed the brain and the spinal column, the parts suspected of causing mad cow disease in humans, from the food system.
The USDA says that since the discovery of the infected cow, they have identified 10 different feed suppliers that delivered animal feed to the farm. Determining if the cow became sick from feed is an area where investigators are focusing close attention.
Authorities have determined the infected cow gave birth twice. One calf was stillborn and the other was located on a farm outside of California. That cow was subsequently euthanized and tested negative for mad cow disease.
Unlike most other meat-borne illnesses, such as those caused by E.-coli bacteria, cooking does not kill the infectious agent that causes mad cow disease.
Consumers who wish to exercise extra caution can follow the advice presented by the Web-based consumer advocacy group Consumeraffairs.com, which advises the avoidance of brains, neck bones and beef cheeks, bone marrow and cuts of beef that are sold on the bone. The group also says to choose boneless cuts of meat and ground beef only if it has been ground in the store.
"Evidence shows that our systems and safeguards to prevent BSE are working, as are similar actions taken by countries around the world," said John Clifford, the Agriculture Department's chief veterinarian.
Last year, 29 cases of BSE were reported worldwide, down 99% from the peak of 37,311 cases in 1992.
"This is directly attributable to the impact and effectiveness of feed bans as a primary control measure for the disease," he said last month.
The Agriculture Department confirmed the first case of mad cow disease in America on December 23, 2003, in a cow born in Alberta, Canada, in April 1997, only four months before the United States and Canada began banning the use of brain and spinal cord tissue in cattle feed.
A second U.S. case was confirmed June 24, 2005, and a third on March 13, 2006.
(NaturalNews) Would you knowingly eat ground beef which contained scrap meat items such as muscle connective tissue which had been sprayed with ammonium hydroxide? Would you want your children to eat such ground beef in their school lunches? According to recent revelations, if you or your children eat ground beef there is a strong chance that both may be happening.
Last week, former United States Department of Agriculture (USDA) scientist-turned-whistleblower Gerald Zirnstein revealed that 70 percent of the ground beef sold at supermarkets contained the fake-meat additive which is commonly referred to as "pink slime". This revelation came on the heels of reports that the USDA is purchasing 7 million pounds of the product for school lunches in public schools.
"Pink slime" is taking over ground beef at our grocers and schools "Pink slime" is made by gathering beef waste trimmings, simmering them at low heat to make it easy to separate fat from the muscle, and using a centrifuge to spin the waste trimmings to complete the separation. Next, the mixture is sent through pipes and sprayed with ammonium hydroxide gas to kill bacteria. Finally, the product is packaged into bricks, frozen and shipped to grocery stores and meat packers, where it is added to most ground beef.
The beef trimmings are particularly susceptible to contamination and were once relegated to pet food and cooking oil. However, Beef Products Inc. (BPI), the makers of "pink slime, commissioned a study which reportedly demonstrated that the ammonia process would kill E. coli as well as salmonella. Ever since the study, use of "pink slime" in ground beef has increased.
In 2009, the New York Times reported that despite the added ammonia, tests of "pink slime" across the country revealed dozens of instances of E. coli and salmonella. According to the Times, E. coli was found three times and salmonella 48 times between 2005 and 2009, including two contaminated batches of meat totaling 27,000 pounds.
Zirnstein, who first coined the term "pink slime" in a USDA memo, told ABC news "It's economic fraud. It's not fresh ground beef. …It's a cheap substitute being added in."
Zirnstein and fellow USDA scientist Carl Custer both warned against using what the industry calls "lean finely textured beef," but they were overruled by their government bosses. The "pink slime" does not have to appear on the adulterated ground beef labels because, over objections of its own scientists, USDA officials with links to the beef industry labeled it meat.
The woman who made the decision to approve the mix is former undersecretary of agriculture, Joann Smith. Her decision led to hundred of millions of dollars for BPI.
"The under secretary said, 'it's pink, therefore it's meat,'" Custer told ABC News.
When Smith left the USDA in 1993, she was appointed to the board of directors for BPI's principal major supplier where she reportedly made at least $1.2 million over the next 17 years. The USDA said that, while Smith's appointment was legal at the time, she could not have immediately joined the board under current ethics rules.
News of the USDA's plan to bring 7 million pounds of "pink slime" to school cafeterias nationwide comes just weeks after the government announced new guidelines to ensure students are given healthier options for school meals. Notably, the USDA purchase comes after fast food chains such as McDonald's, Taco Bell and Burger King have discontinued use of "pink slime."
A public outcry against the "slime" is perhaps led most prominently by celebrity chef Jamie Oliver, who has also waged war successfully against flavored milk in Los Angeles schools.
Sources for this article include:
http://www.nytimes.com/2009/12/31/us/31meat.html
http://en.wikipedia.org/wiki/Pink_slime
About the author: Tony Isaacs, is a natural health author, advocate and researcher who hosts The Best Years in Life website for those who wish to avoid prescription drugs and mainstream managed illness and live longer, healthier and happier lives naturally. Mr. Isaacs is the author of books and articles about natural health, longevity and beating cancer including "Cancer's Natural Enemy" and is working on a major book project due to be published later this year. He is also a contributing author for the worldwide advocacy group "S.A N.E.Vax. Inc" which endeavors to uncover the truth about HPV vaccine dangers.
Mr. Isaacs also has The Best Years in Life website for baby boomers and others wishing to avoid prescription drugs and mainstream managed illness and live longer, healthier and happier lives naturally. In addition, he hosts the Yahoo Oleandersoup Health group of over 2500 members and the CureZone Ask Tony Isaacs – Featuring Luella May forum, where he also serves as the local moderator for the Cancer Alternatives forum. Mr. Isaacs serves as a consultant to the "Utopia Silver Supplement Company and he and his partner Luella May recently began hosting The Best Years in Life Radio Show for Rumor Mill News on the Micro Effect Radio Network.
Learn more: http://www.naturalnews.com/035437_pink_slime_ground_beef_groceries.html#ixzz1quuORKFk
The U.S. Department of Agriculture (USDA) is currently deciding whether or not to approve an application by Dow Chemical for its controversial genetically engineered (GE) corn crop that is resistant to the highly toxic herbicide 2,4-D, one of the main ingredients in Agent Orange.
On February 22nd, just 5 days before the close of the comment period, the USDA extended the public comment period on this issue until April 27th. The Center for Food Safety was one of the groups that requested this extension from USDA, and we are pleased the agency responded accordingly.  If approved, CFS has vowed to challenge USDA's decision in court, as this novel GE crop provides no public benefit and will only cause serious harm to human health, the environment, and threaten American farms.
"Dow's 'Agent Orange' corn will trigger a large increase in 2,4-D use—and our exposure to this toxic herbicide—yet USDA has not assessed how much, nor analyzed the serious harm to human health, the environment, or neighboring farms," said Andrew Kimbrell, executive director of the Center for Food Safety.  "This novel corn will foster resistant weeds that require more toxic pesticides to kill, followed by more resistance and more pesticides—a chemical arms race in which the only winners are pesticide/biotechnology firms."
If approved, millions of acres of "Agent Orange" corn could be planted as early as next year, raising concern for its adverse health impacts. 2,4-D was one of the main ingredients in Agent Orange, the chemical defoliant used by the U.S. in the Vietnam War. Agent Orange was contaminated with dioxins, a group of highly toxic chemical compounds, which are responsible for a host of serious medical conditions—from diabetes to cancer to birth defects—in Vietnam veterans as well as Vietnamese and their children.  Industry's own tests show that 2,4-D is still contaminated with dioxins.
"Many studies show that 2,4 D exposure is associated with various forms of cancer, Parkinson's Disease, nerve damage, hormone disruption and birth defects," said Dr. Amy Dean, an internal medicine physician and President-Elect of the American Academy of Environmental Medicine.  "Because it poses significant health risk, exposure should not be increased, but significantly reduced to protect the public's health."
2,4-D drift and runoff also pose serious risk for environmental harm.  Because it is such a potent plant-killer, 2,4-D can harm animals by killing the plants they depend on for habitat and food.  The U.S. Environmental Protection Agency and the National Marine Fisheries Service have found that 2,4-D is likely having adverse impacts on several endangered species, even now.  2,4-D is currently used to control weeds primarily in cereal grains and lawns. Its use in corn has been extremely limited. USDA's approval of 2,4-D resistant GE corn will increase the overall use of this toxic herbicide, worsening these impacts and likely placing many other species at risk.
American farmers are also rightly concerned that the introduction of 2,4-D resistant corn will threaten their crops: 2,4-D drift is responsible for more episodes of crop injury than any other herbicide.  "In my experience, 2,4-D is an herbicide that can and does drift considerable distances to damage neighboring crops," said Indiana farmer Troy Roush. "We can expect greatly increased use of 2,4-D with Dow's new corn, and that could wreak havoc with soybeans, tomatoes, and other crops my neighbors and I grow."
The advent of Dow's 2,4-D resistant corn is a clear indication that first-generation genetically engineered, herbicide-resistant crops—Monsanto's Roundup Ready (RR) varieties—are rapidly failing.  RR crops, which comprise 84 percent of world biotech plantings, have triggered massive use of glyphosate (Roundup's active ingredient) and an epidemic of glyphosate-resistant weeds.  These resistant "superweeds" are regarded as one of the major challenges facing American agriculture.
Dow now falsely suggests that 2,4-D crops (2,4-D soybeans and cotton are also under development) are the solution to weed resistance.  Far from solving the problem, however, a peer-reviewed study recently published in the prestigious journal Bioscience, entitled "Navigating a Critical Juncture for Sustainable Weed Management," suggests that these new GE crops will pour oil on the fire, triggering an outbreak of still more intractable weeds resistant to both glyphosate and 2,4-D.
USDA's public comment period on 2,4-D resistant corn is open until April 27. Comments may be submitted to the agency through CFS's action link at: http://bit.ly/AgentOrangeCorn.
For more information on 2,4-D corn, see CFS's two-page fact sheet and more extensive Food Safety Review.
# # #
The Center for Food Safety is a national, non-profit, membership organization founded in 1997 to protect human health and the environment by curbing the use of harmful food production technologies and by promoting organic and other forms of sustainable agriculture. More information can be found at www.centerforfoodsafety.org
By Alexis Baden-Mayer & Ronnie Cummins Organic Consumers Association, February 1, 2012
Energy-intensive industrial farming practices that rely on toxic chemicals and genetically engineered crops are not just undermining public health–they're destroying the planet. Here's how:
#1 Generating Massive Greenhouse Gas Pollution (CO2, Methane, Nitrous Oxide) and Global Warming; While Promoting False Solutions Such as Industrial Biofuels, So-Called Drought-Resistant Crops, and Genetically Engineered Trees
Evaluations of corn grown for ethanol show that whatever reduction in emissions you get from burning corn instead of oil in the gas tank is more than offset by the fact that producing biofuel from corn requires as much fuel as it could replace.
Corn production, like the production of all of the crops (corn, cotton, canola, soy, and now, sugar beets and alfalfa) that Monsanto has so successfully industrialized through its business model of selling patented GMO seeds to increase the use of its pesticides, is very fossil fuel intensive.
But that's just the beginning of Monsanto's contribution to agriculture's green house gas emissions. With ever-increasing acreage, where are all those GMO crops going? They're being fed to animals, and when you look at emissions from factory farms, you'll wish we burned them in the gas tank instead!
Added to the greenhouse gas emissions from crop production and factory farms is the pollution related to heavily processed food and the fact that food in the U.S. travels anywhere from 1500 to 3000 miles to reach your plate and must be either cooled or frozen in transit or storage. That's fossil fuel intensive, too.
Before we total the life cycle contribution of Monsanto's crops to greenhouse gas emissions, we have to take several steps back and acknowledge that clearing land to grow GMO crops for animal feed is the biggest driver of forest and wetland destruction, which generates 20% of all climate-destabilizing greenhouse gases.
All told, the production and processing of Monsanto's GMO crops, from deforestation to fossil-fuel-based pesticides and fertilizers, polluting factory farms, and fuel-intensive food processing and distribution, is estimated to produce up to 51% of global greenhouse gas emissions.
#2 Polluting the Environment and the Soil-Food Web with Pesticides, Chemical Fertilizers, and Persistent Toxins, Including Dioxin Industrial agriculture's heavy reliance on pesticides and fertilizers is responsible for the release of many dangerous toxins into our environment, but since Monsanto first commercialized genetically engineered crops in the 1990s, we've been exposed to one more than any other. It's common name is glyphosate, but Monsanto markets it as RoundUp and has created "RoundUp Ready" crops to promote it. RoundUp Ready crops are genetically engineered to withstand endless amounts of RoundUp. The success of Monsanto's business model has made RoundUp the most-used pesticide in the history of the world.
The trouble is, RoundUp is very toxic. It's known to cause cancer, birth defects and infertility. In fact, some scientists are now saying it's more dangerous than DDT.
It only took about 15 years for the RoundUp Ready technology to begin to fail, with RoundUp-tolerant super-weeds springing up across the country and farmers having to resort to more and more toxic pesticides for weed control. The biotech industry says it has a solution: replace RoundUp Ready crops with a new type of GMO, "2,4-D Ready" crops.
As dangerous as RoundUp is turning out to be, the only thing worse would be 2,4-D replacing RoundUp's as the most popular pesticide in the world. The use of 2,4-D releases dioxin. Dioxin is what has made Agent Orange, which contained 2,4-D, a source of horrific birth defects in Vietnam to this day. Genetically engineered 2,4-D-tolerant crops would be a disaster of untold proportions.
#3 Turning Farmland into Desert, Draining Aquifers and Wetlands
In the U.S., the soil's capability to sequester carbon has been severely deteriorated due to the enormous increase in the use of nitrogen fertilizers, mostly to raise Monsanto's genetically engineered crops for animal feed. The soil should be a sink for excess carbon but has lost about 50% of its organic matter, making it is less than half as effective as it used to be. Many of our most productive agricultural lands have been degraded or desertified because of industrial production.
Recent studies on the University of Illinois Morrow plots (the oldest continuously farmed experimental plots in the U.S.) have shown that since 1955, when synthetic nitrogen was first used, 40-190% too much nitrogen was applied, yet yields dropped and organic matter declined dramatically. These problems on the Morrow plots are writ large on millions of acres of agricultural soils that have been degraded by synthetic fertilizer all over this country.
Synthetic nitrogen fertilizer kills soil life, including earthworms and microorganisms. In addition to reduced yields, degraded and deadened soils produce less nutritious food.
Contrary to Monsanto's marketing claims that their business is about "squeezing more out of a drop of water," their genetically engineered crops are notoriously thirsty. It takes twice as much water to produce a pound of a RoundupReady crop soybean plant treated with RoundUp herbicide, as it does with a soybean plant that's not treated with RoundUp.
#4 Poisoning Drinking Water, Acidifying the Oceans
Synthetic nitrogen fertilizer is also responsible for the nitrate poisoning of two-thirds of the U.S. drinking water supply. Synthetic nitrogen fertilizer is the major cause of the 405 oceanic dead zones around the world (including the Gulf of Mexico, the Chesapeake Bay, and the coasts of California and Oregon). Monsanto's genetically engineered corn uses more fertilizer than any other crop.
#5 Chopping Down the Rainforests for Monoculture GMO Crops, Biofuels and Cattle Grazing
Clearing land to grow GMO crops for animal feed is the biggest driver of forest and wetland destruction, which generate 20% of all climate-destabilizing greenhouse gases. In Argentina and Brazil, Monsanto's genetically engineered soy is the main cause of deforestation.
Argentina has one of the highest rates of deforestation in the world with an average of 0.8% of the forest cut down each year, against a global rate of 0.23%. During the period 2002-2006, 1,108,669 hectares of forest were lost. That is 277,000 hectares per year, equivalent to 760 hectares per day or 32 hectares per hour. The speed with which Córdoba's forests are disappearing is unmatched worldwide, it even surpasses that of tropical forests in poor countries. This is a ecological tragedy for the primitive forests which shelter a biodiversity found nowhere else on the planet.
In Brazil, the soy output increased 7.2 percent in 2011, causing deforestation in the Brazilian Amazon to jump sixfold.
#6 Increasing the Cost of Food, While Reducing Nutrition and Biodiversity
The business press unabashedly links Monsanto's profits to record-high global food prices and increases in the costs of farm inputs, especially Monsanto's patented genetically engineered seeds. Monsanto's profits go up as hunger increases and families lose their farms to insurmountable debt.
Nowhere has the connection between Monsanto's fortunes and farmers' misfortunes been so clear as in India where 200,000 farmers have committed suicide since 1997. For many Indian farmers growing Monsanto's genetically engineered Bt cotton, suicide is their only means of escaping the debt they've accrued to obtain the seeds and pesticides.
Monsanto has made food and farming more expensive, while reducing the nutrition and variety of food available to the average consumer. The world's farmers are increasingly growing more of fewer number of crops (especially Monsanto's genetically engineered corn, cotton, soy, canola, sugar beets and alfalfa). The result is that we're eating a lot more of these few genetically engineered crops, mostly in the form of animal products, oils & fats, and sugars. The most notorious genetically engineered ingredients are high-fructose corn syrup, hydrogenated vegetable oils, and processed meats.
The concentration of power in the hands of a few chemical companies like Monsanto and the industrial producers who can most easily afford their products, has resulted in a global food system dominated by two extremes: on one hand, a plenitude of industrially produced junk foods, on the other, regular food shortages and drastic price hikes. This leaves a billion people saddled with obesity and diet-related disease, even as more than a billion don't know where their next meal is coming from.
#7 Spawning Pesticide-Resistant "Super" Bugs and Weeds, and Antibiotic-Resistant Bacteria
Genetically engineered crops designed to produce insecticides or tolerate herbicides have proven a failure. Herbicide-resistant "superweeds" have increased farmers' weed-control costs to $50/acre, as they battle weeds that can stand up to the most toxic chemicals ever invented, including RoundUp (glyphosate), 2,4-D, dicamba, atrazine, ALS inhibitors, PPO inhibitors, HPPD inhibitors and synthetic auxins. Monsanto's Bt corn and cotton are being mowed down by resistant insects from Iowa to India.
On farms raising animals for food, the non-therapeutic use of antibiotics has created a serious threat to the longevity and effectiveness of certain classes of antibiotics used to treat a host of human illnesses. Doctors concede that antimicrobial drug resistance due to use in animal feed has already cost thousands of lives. In 2006, the EU banned the use of antibiotics in water and feed, proving that raising livestock without drugs is possible.
#8 Generating New and More Virulent Plant, Animal and Human Diseases
The following is a summary of a must-watch interview (Part 1, Part 2) that Dr. Joseph Mercola conducted with Dr. Don Huber.
The way Monsanto's RoundUp herbicide (glyphosate) kills weeds and plants is by compromising their defense mechanisms, making them very susceptible to soil borne organisms. It's not a direct killer, but it has a debilitating effect on the weed's immune system, much like the human disease AIDS.
Monsanto's RoundUp Ready gene, which enables crops to withstand glyphosate, doesn't solve the problem of a debilitated immune system, all it does is make it possible for the plant to survive and to accumulate more glyphosate. RoundUp Ready crops aren't killed immediately by the soil diseases RoundUp makes them susceptible to, because they've been engineered with genes from a resistant bacteria, but they are still more likely to succumb to disease than plants that aren't exposed to RoundUp.
Among these disease-causing pathogens are fusaria, which causes sudden death syndrome in soybeans and is a major disease-causing organism for most of our crops. In crops sprayed with RoundUp, we find an increase of up to 500 percent in root colonization by this fungus.
While glyphosate promotes the growth of more virulent pathogens, it also kills off beneficial bacteria that might keep such pathogens in check in the soil and in the guts of animals and humans that ingest the crop.
Scientists have discovered a brand new organism in genetically engineered animal feed, an organism that has since been linked to infertility and miscarriage in cattle, horses, pigs, sheep, and poultry. We can anticipate that, with such a broad spectrum of animal species, which is extremely unusual, that humans will face the same problem, and there has been an increasing frequency of miscarriage and a dramatic increase in infertility in humans in just the last eight to 10 years.
The organism was initially identified by veterinarians around 1998, about two years after the introduction of Roundup Ready soybeans, which is one of the staple feeds. The vets were puzzled by sudden high reproductive failure in animals. While sporadic at first, the phenomenon has continued to increase in severity. Dairies are reporting rates of spontaneous as high as 70 percent.
The cause-effect relationship between high reproductive failure and this new microbial entity has been established, but the research has not yet been published. The reason for the delay is because they really do not know what the organism is. It's not a fungus. It's not bacteria. It's not a mycoplasma or a virus. It's about the same size of a small virus; you have to magnify it 40,000 times.
When the veterinarians wanted to find the source for this new organism, they went to the feed. The first place where they found high concentrations was in the soybean meal. Since it has been found it in corn and in silage, only where there is a genetically engineered crop that has had glyphosate applied to it. The organism is also found in manure when the animals have been given feeds with high glyphosate residues. When that manure is applied to pastures and cattle graze on it, we also see high infertility rates there.
The organism is found in the placenta, in the fetus, and in the sperm. In the dairy industry, it sometimes takes twice as much semen to get a conception and as many as four to eight inseminations rather than the typical 1.2 to 1.5. One bull breeder had to pull 40 percent of his bulls out of service, because of fertility.
If we continue to douse our crops with ever increasing amounts of glyphosate, we will inevitably see the same effect on human health as we're seeing in plants and animals.
Glyphosate gets inside the plant; it cannot be washed off. Once you eat it, it ends up in your gut, where 80 percent of your immune system resides. Glyphosate can wreak havoc with your health by upsetting the healthy ratio of good and bad stomach bacteria.
Because organically-farmed fields are not doused with glyphosate, organic fields still contain beneficial soil bacteria that actually hinder pathogens in and on the food from multiplying out of control. This may be yet another reason why organic foods are less prone to be contaminated with disease-causing pathogens than conventionally-grown foods.
Pathogens such as E. coli have a high tolerance for glyphosate compared to their natural biological controls. What this means is that it may not be the presence or absence of pathogens per se that determines the safety of our food supply, but rather the presence or absence of the natural control organisms, which are effectively destroyed by glyphosate. Salmonella, Clostridium, and a lot of these disease organisms are ubiquitous. They're everywhere. Our health is dependent on keeping them in check. If we're eliminating that check, we're going to see an increase in Alzheimer's, thyroid problems, autism, Parkinson's — any disease that has a tie with either the endocrine system or nutrient availability.
Genetically engineered crops are supposed to be nutritionally equivalent to conventional foods, but they're not. On the contrary, they're nutritionally inferior due to glyphosate's herbicidal mechanism, which blocks absorption of micronutrients. Genetically engineered crops contain about 50 percent less manganese and up to 70 percent less zinc. They also contain less copper, iron and magnesium, just to name a few. This affects the overall health of the plant, and its reproductive ability, and when you eat this nutritionally inferior food, you're not getting the micronutrients your body needs for proper function either. Animal products are similarly affected when they're from animals raised on genetically feed.
Studies of pet rats are exposing behavioral differences in animals given genetically engineered feed, as opposed to normal food. The non-GMO-fed rats are docile. They can be pulled out of their cages and patted just like a cat. But try and reach in to the cage where the rats are being fed the genetically engineered feed. The rats are irritated. They don't get along together. They always go off into their own little world. They do backflips. They crawl up and run around the cage. They can't get any peace, can't settle down. That is very typical of what you'd see with autism.
Doctors working with autistic children are noting many correlations between the rats fed genetically modified feed and autistic children. When you look at the stomachs of the GMO-fed animals, they have all of the severe allergy responses, the inflammation and the reddening. The intestinal lining is deteriorating. The smell of the intestinal contents is very rank. The biology has been drastically changed. Doctors say that's exactly what they're seeing with autistic children.
Another effect of the new mystery organism associated with genetically engineered crops is premature aging. Research done in Iowa three years ago showed that prime beef from a two-year old cow had to be downgraded to that from a 10-year old cow.
Glyphosate can also disrupt a number of other biological systems, including liver function, blood function, and hormonal function. Glyphosate is a potent endocrine disruptor that can affect the endocrine system, thyroid function, and pituitary function.
#9 Utilizing Wasteful Fossil Fuel-Intensive Practices and Encouraging the Expansion of Natural Gas Fracking and Tar Sands Extraction (Which Destroy Forests, Aquifers, and Farmland)
The industrialized food system is responsible for more than half of greenhouse gas emissions, making Big Ag one of Big Oil's biggest customers. We could deprive the oil and gas industry of a significant amount of income by making the shift from polluting, fossil-fuel-intensive factory farms to carbon-sequestering organic and local agriculture.
Until we do make the shift, we need to acknowledge that the old adage "you are what you eat" applies to energy and the climate, as well as the body. It isn't just Hummers that are pushing the expansion of natural gas fracking and tar sands extraction, it's also Big Macs.
The worst thing about agriculture's wasteful ways that the more fossil fuels we use to produce our food, the more farmland will be destroyed in the search for new sources of that fuel.
Natural gas fracking pumps many millions of gallons of hydrocarbons and volatile organic compounds, including known carcinogens and endocrine disruptors, into the ground during the drilling process, and into the air from evaporation tanks. Pollution of water, air and food from the gas drilling industry is exempt from federal pollution laws, including the Safe Drinking Water Act, the Clean Water Act, and the Clear Air Act, thanks to Dick Cheney's 2005 Energy Policy Act and its 'Halliburton Exemption.'
In upstate New York, the three million acres of superior grasslands which are currently unused are threatened by natural gas fracking. This is enough pasture land to raise local, grass-fed cattle to replace all the factory farmed beef sold in New York City.
The Keystone XL pipeline would carry toxic tar sands oil 1,700 miles from Alberta, Canada to the Gulf of Mexico. The pipeline would cross the massive Ogallala aquifer, which supplies drinking water in 8 US states, and irrigation for millions of acres of farmland. We've already seen the damage the thick tar sands oil laden with volatile compounds can do from spills in the Yellowstone River and the Kalamazoo River. The first Keystone pipeline, developed with state-of-the-art technology, has already spilled 12 timesin its first year in operation.
#10 Stealing Money From the 99% to Give Huge Subsidies to the 1% Wealthiest, Most Chemical and Energy-Intensive Farms and Food Producers
The following is a summary of Donald Carr's must-read article, "Why the 2012 Farm Bill is a Climate Bill."
In the 2012 Farm Bill, Congress is poised to cut 7 million acres from the Conservation Reserve Program (CRP). The CRP is administered through the U.S. Department of Agriculture and pays farmers to keep highly erodible land out of production.
Putting land into conservation programs leads to cleaner water, healthier soil, and robust wildlife habitat, and also plays a major role in fighting climate change. According to the USDA [PDF], one acre of protected land sequesters 1.66 metric tons of carbon every year, carbon that would otherwise end up in the atmosphere. The 7 million acres about to be cut from the CRP have been putting 11.6 million metric tons of carbon into the soil every year.
The Environmental Protection Agency says that this amount of carbon is equivalent to the annual emissions of 2 million passenger vehicles. All that stored carbon will be sent back into the atmosphere if those 7 million acres are plowed under to plant more genetically engineered corn for ethanol and livestock feed.
Meanwhile lavish government payments to highly profitable mega-farms continue, and farm state lawmakers and agribiz lobbyists are working toward newer programs that could increasetaxpayers' burden, along with agriculture's greenhouse gas emissions.
Save the Planet From Monsanto! It's not enough to stop eating genetically engineered food. If we want a liveable planet we've got to boycott all factory farmed food and make the Great Transition from energy and chemical-intensive agriculture to a re-localized and organic system of food and farming. The World According to Monsanto is a recipe for disaster. Monsanto and Big Ag contaminate every link in the food chain, threatening the very foundation of life: living nutrient-rich soil, clean water, resilient crops, healthy animals, stable climates, and diverse food sources. The good news is that agro-ecological and organic methods can reverse this threat and sustain food production for future generations, but we don't have much time to turn things around.
Organic Consumers Association · 6771 South Silver Hill Drive, Finland MN 55603 · Contact Us Activist or Media Inquiries: 218-226-4164 · Fax: 218-353-7652 · Please support our work: Send a tax-deductible donation to the OCA